This is an extract from Goodlord's new e-book, How Generation Rent will transform the lettings industry. Download it today.
Generation Rent expects to be able to do business with you wherever they are, whenever it suits them. This way of operating is ingrained in their daily lives; they take Ubers instead of taxis, stay in Airbnbs instead of hotels, and stream music and movies on demand using Spotify and Netflix.
There's no longer any question of whether this way of interacting with businesses is simply a bubble - the question now is when this new way of transacting will become the norm for every industry. Failing to spot the signs early enough could mean missing out on huge opportunities.
The desire for on-demand services is expanding and impacting a growing list of sectors1. Many traditional industries have already begun adapting to the needs
of their younger customers by putting technology at the core of their businesses
 - not only to serve that new market, but to combat other intruding tech-based businesses who are beginning to enter the marketplace - and now providing very real competition.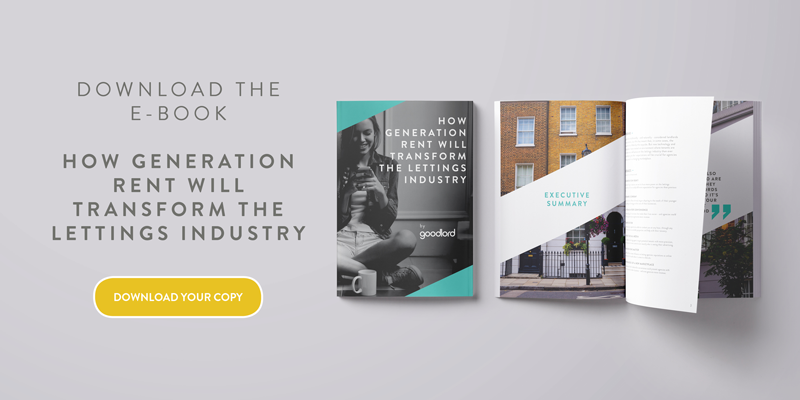 This is exemplified by FinTech (financial technology) companies such as Monzo who have entered the previously closed world of banking with branchless, mobile-only bank accounts, which customers can open from their phone, at any time of day. They're finding success, too - Monzo now has more than a million customers - proving even industries long-considered safe from disruption will be affected.
The lettings industry, therefore, won't be immune to these changes, with online agencies and PropTech companies having already emerged to challenge the traditional players. "The market we're in at the moment is being disrupted hugely," says David Thomas of Liberty Gate in Nottingham. "If you get caught in the middle and just do the same old thing, you're going to get wiped out."
Thomas Izod of Kallars Property Agents in London agrees that his tenants now expect a digital-first experience. "Everyone's expecting digital, everyone's expecting processes to be a lot easier - and they expect that already."
1. EY megatrends: Understanding disruption, ey.com