This is an extract from Goodlord's new e-book, How Generation Rent will transform the lettings industry. Download it today.
It's important to note that although Generation Rent's on-demand expectations might seem high, they are willing to pay a premium for products and services that will make their lives easier*, with 63% of consumers willing to pay a higher price for on-demand services**. This is evidenced by the subscription fees they pay for on-demand streaming services such as Spotify or Netflix; their willingness to accept the "surge" pricing Uber charges during peak periods; or by paying an additional charge for next- day delivery from ASOS.
A host of on-demand services have also begun to emerge that aim to make the moving process even easier for Generation Rent. TaskRabbit, which lets customers hire help for small jobs around the home, is used primarily by Generation Renters to assemble flat-pack furniture (recognising this, the company was purchased by Ikea), while Feather offers a furniture-subscription service that caters to this increasingly mobile cohort.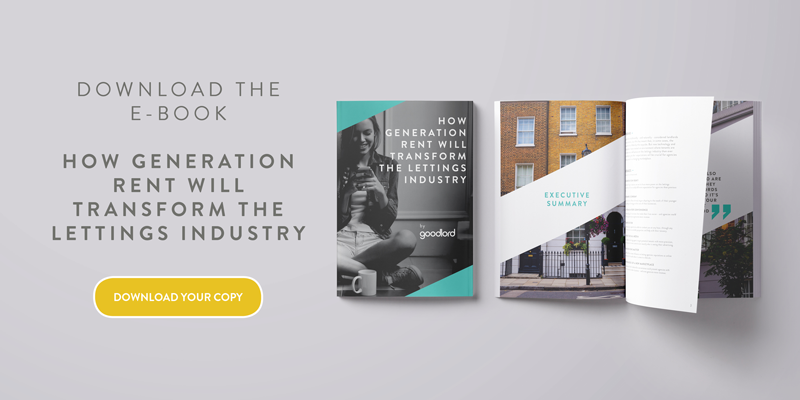 Letting agents, as the key facilitators of a tenant's moving journey, are perfectly positioned to offer products and services to millennials that will make the process an easier one - and being able to offer these services to tenants while they are in the right mindset is critical. David Thomas of Liberty Gate in Nottingam thinks there will be a move toward technology that helps to "break down the barriers so tenants can move in almost seamlessly once they've seen a property".
This might include offering utility and media-switching or insurance at the end of the application process, which tenants can purchase with the click of a button, but in the future, it's possible letting agents could extend their service offering even further. "We can see the potential for extra touch points that could add more value," says Thomas.
Thomas Izod of Kallars Property Agents in London also thinks new technology will put agencies in a better position to take advantage of the on-demand economy. "Technology is the only way forward for agencies - you're not maximising your returns if you're doing the same thing you were doing ten years ago."
*Impatience Is A Virtue: How The On-Demand Economy Is Making Mobile Consumers Impatient, forbes.com
**On-demand delivery and the culture of convenience: what are consumers really looking for?, medium.com