Furlough: The Coronavirus Job Retention Scheme ends for 1.6M employees - what's next?
The Coronavirus Job Retention Scheme has now ended, bringing to a close the government's largest single piece of financial support of employees and employers during the pandemic. Your agency and your landlords should be aware of the potential impact this may have on your tenants.
The government's furlough scheme has now ended, cutting off support for the 1.6 million staff members still on furlough across 484,000 employers as of 31 July 2021. Throughout its life, 11.6 million jobs were supported by the scheme at a cost of more than £68 billion in total - a large sum for businesses to compensate for in the coming months if they are still feeling the bite of the pandemic.

Risk of redundancies, evictions, and arrears
As furlough ends, employers will need to decide if they will bring their employees back to work, make them redundant, or agree to a change of the terms in their employment contract. The National Institute of Economic and Social Research (Niesr) estimated in July that unemployment in the UK would grow by at least 150,000 once the scheme ended, putting some tenants' incomes at risk.
The temporary boost of £20 per week to Universal Credit in response to the pandemic is also expected to end on 6 October. Although alternative support is being debated after growing calls to reverse the cut, the housing charity Crisis predicts that 100,000 renting households will be at risk of eviction when the cut comes into effect. Increased arrears in the past year was noted by 32% of the lettings professionals surveyed in Goodlord's State of the Lettings Industry Report 2021 against 64% in last year's report. However, 48% still said that arrears were at the same level year on year, indicating that arrears are still higher than usual.
Job vacancies versus furlough rates
This should be balanced against the fact that job vacancies broke records by surpassing the 1 million mark in August 2021. The chancellor is expected to announce more customised support in his budget on 27 October 2021 through his Plan for Jobs package, to pair still furloughed workers with these available jobs - but the Bank of England has shared concerns around the uncertain impact of furlough ending, highlighting that questions remain around "the extent, impact and duration of any change in unemployment; as well as the degree and persistence of any difficulties in matching available jobs with workers."
Some industries are also more at risk than others, with government data highlighting the top ten industries taking advantage of the scheme based on the highest furlough rates, as outlined below. Letting agencies should be aware of these statistics when referencing tenants going forwards, to take into account any potential elevated risk surrounding their future income prospects now this government scheme has closed.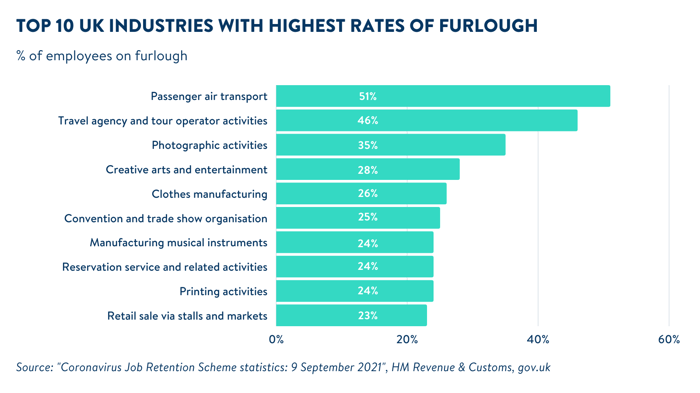 Additional tenant support
Alongside the benefits available for low income, such as Universal Credit, Jobseeker's Allowance, and Income Support, your tenants can access the Debt Respite Scheme or "Breathing Space" scheme in England, either for a standard breathing space and a mental health crisis breathing space. This does not eliminate your tenants' debt or arrears, but rather gives them legal protections from creditor action for up to 60 days and therefore time to find a solution.
In Scotland and Wales, grants are available to those unable to pay their rent due to financial hardship. Both governments have allocated funds of £10 million, with the Welsh grant available for applications through the Tenancy Hardship Grant page, and the Scottish funding available at the discretion of the local authorities.
Agents should continue to work with tenants to find the best solution for them if they struggle to pay their rent - or offer their landlords a rent protection policy for instances where no mutually-agreed solution can be found.
Protect your landlords against the risk of a tenant not being able to pay their rent with Goodlord's Rent Protection Insurance.