How to carry out a Covid-19 risk assessment on your workplace
All employers will need to carry out a risk assessment before reopening their offices to ensure that their employees can work safely during coronavirus.
The situation with Covid-19 is rapidly changing. For the latest guidelines, please refer to gov.uk.
All agencies must carry out a Covid-19 risk assessment to ensure that their workplace is Covid-secure, following the government guidance on working safely during coronavirus. As part of the risk assessment, you will need to think about the risks your employees and customers could face from Covid-19 and do "everything reasonably practicable" that you can do to minimise these risks.
Carrying out a risk assessment

All employers - including self-employed people - will need to carry out a COVID-19 risk assessment as part of their legal responsibility to protect their employees and others from risks to their health and safety. Your assessment should have "particular regard" for those who are considered clinically vulnerable and clinically extremely vulnerable to COVID-19.
Your risk assessment should address the risks of COVID-19, using the government's guidance on working safely during coronavirus, to "inform your decisions and control measures". Employers with fewer than five workers or those who are self-employed don't have to document risk assessment, but larger businesses should do so. Templates are available from the Health and Safety Executive (HSE) to help you carry out your risk assessment.
You'll also need to consult with your employees as a part of your risk assessment, which must include consulting the health and safety representative selected by a recognised trade union or, if there isn't one, a representative chosen by workers.
You should share the results of your risk assessment with your employees. The government also suggests publishing it on your website. If your business has more than 50 employees, you will be expected to do this.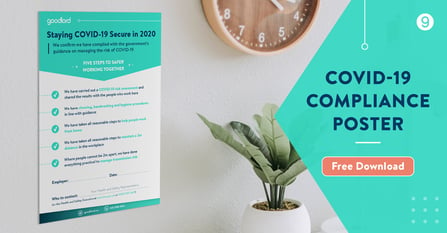 Managing risk in the workplace
Employers have a "duty to reduce workplace risk to the lowest reasonably practicable level by taking preventative measures", which means taking the following steps, in this order:
In every workplace, increasing the frequency of hand washing and surface cleaning.
Make every reasonable effort to enable working from home as a first option. If this is not possible, you should make every reasonable effort to comply with the social distancing guidelines set out by the government and keep people 2m apart wherever possible.
Where the social distancing guidelines cannot be followed in relation to a particular activity, businesses should consider whether that activity needs to continue for the business to operate, and, if so, take all the mitigating actions possible to reduce the risk of transmission.
If people must work face-to-face for a sustained period with more than a small group of fixed partners, you will need to assess whether the activity can safely go ahead.
This article is intended as a guide only and is based on the government's guidance on working safely during coronavirus. For more information, see gov.uk.