Almost half of property professionals describe the process of completing pre-tenancy admin as "painful", Goodlord found in its State of the Industry survey. Forty percent of respondents said that completing pre-tenancy administration was "somewhat painful" and a further 8% said described it as "very painful".
Pre-tenancy administration has become increasingly complicated in recent years as the government has introduced more legislation to the private rented sector. In addition to completing referencing and preparing the tenancy agreement, letting agents are legally required to provide tenants with the How to Rent guide, gas safety and energy performance (EPC) certificates, electrical safety installation (EICR) reports, and the prescribed information for the relevant deposit protection scheme. The Tenant Fees Act has added an additional layer of complication to the pre-tenancy process.
It's no wonder, then, that only 7% of the property professionals surveyed said that pre-tenancy administration was "very easy" and 20% who said it was "somewhat easy". A quarter of respondents said they found pre-tenancy administration "neither easy nor painful". Only property management and check-out were considered more painful parts of the lettings process than paperwork.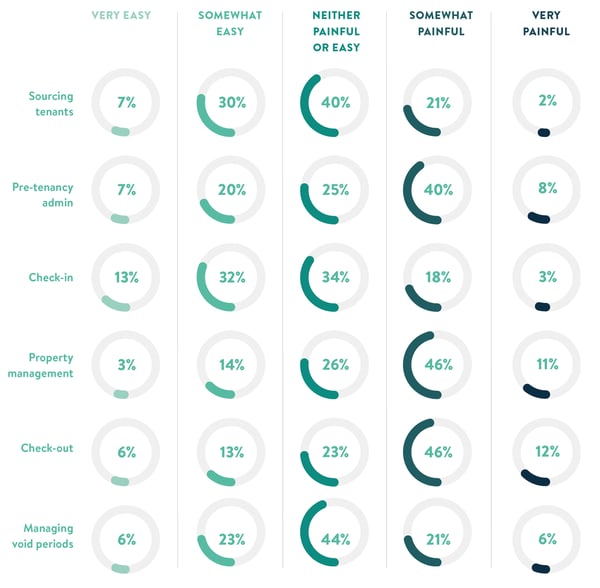 Pre-tenancy administration is also proving immensely time-consuming for many property professionals, with 47% of agents saying it took them more than three hours to complete. Twenty-nine percent of respondents said it took them between 3-4 hours to complete all the paperwork for an average let and a further 18% said it took them more than five hours to complete pre-tenancy admin. Only 13% of respondents said pre-tenancy administration took them less than an hour, while 40% said it took them between 1-2 hours.