The furlough scheme is nearly over and rent arrears are high - what now for your tenants?
The Coronavirus Job Retention Scheme has started to wind down - so what levels of arrears will this leave in the aftermath and what financial support is still available for your agency's and landlord's tenants in England, Scotland and Wales?
The wind down of the UK-wide Coronavirus Job Retention Scheme signals an end to one of the largest financial support schemes for employees, including tenants, set up during the pandemic in Great Britain - but now the lettings industry is asking what's next.
Calls for tenant support have come thick and fast since the first lockdown. ARLA Propertymark's "Keep the rent flowing" campaign was launched in 2020 and aimed to garner government support for tenants based on the fact that any shortfall in income at one point in the private rental sector chain - tenant to landlord to agent - can cause disruption across the whole lettings ecosystem.
Multiple extensions to the furlough scheme have helped plug the gap, but even with this scheme in place, rent arrears appear to be creeping up - opening the floor to questions around what the end of furlough will leave in its wake.
The National Residential Landlords Association (NRLA) found at the end of 2020 that seven percent of the tenants they surveyed had built up arrears due to Covid-19. The Resolution Foundation had similar results - six percent of those surveyed were behind in their rental payment, with rates of arrears across all tenures were estimated to be "at least twice the level of arrears observed going into the crisis" by January 2021 - and 6% of private renters have seen a dip in their earnings due to furlough (see graph below).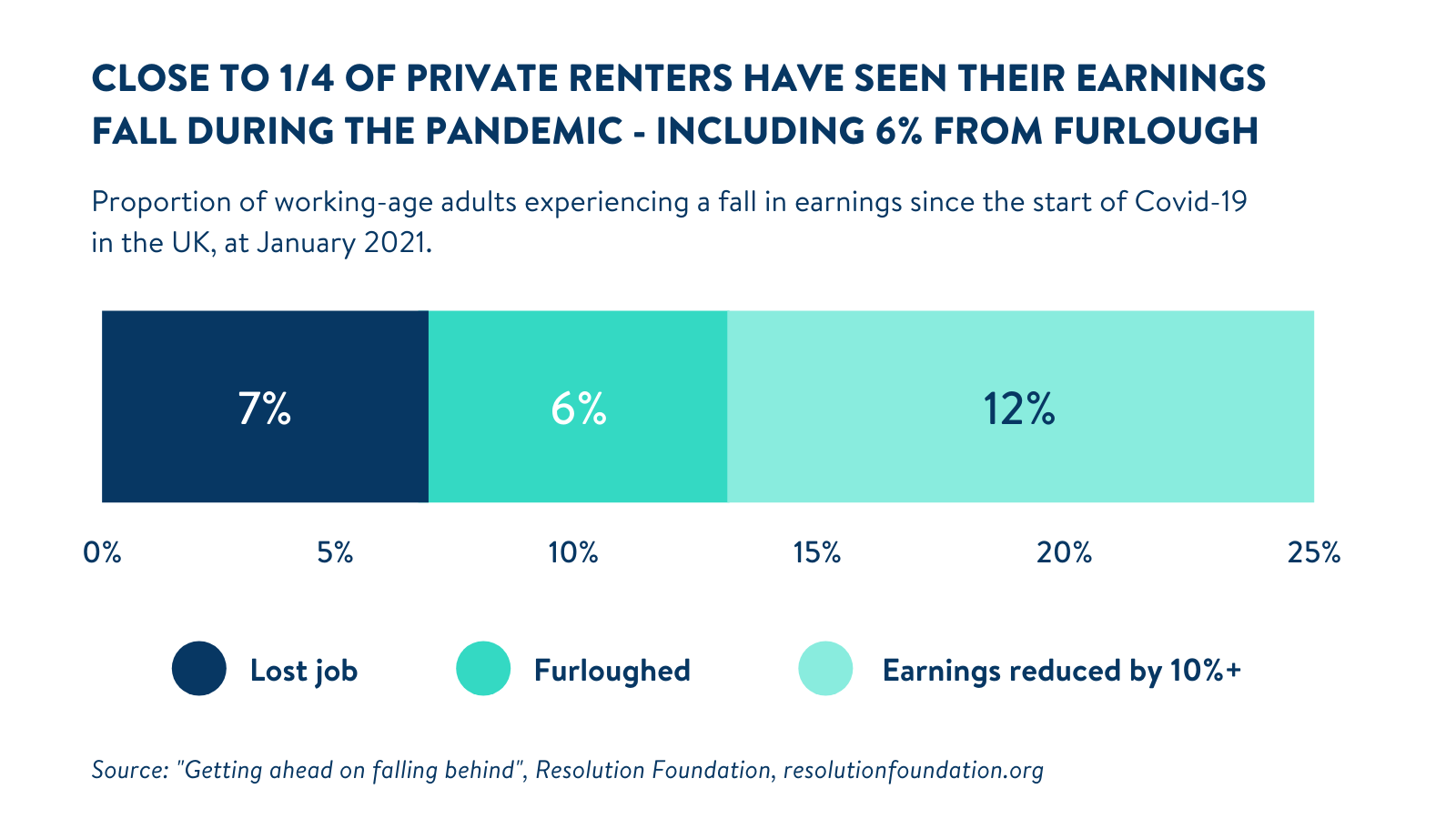 A joint statement from a variety of property associations, including the NRLA, was issued in February 2021, requesting "a targeted financial package to help renters pay off arrears built since lockdown measures." This was followed up in June when Propertymark asked Housing Minister Eddie Hughes MP to introduce emergency financial support for tenants across the UK.
The financial support in place for your tenants
The furlough scheme doesn't stand alone in supporting tenants, although the financial measures that the devolved governments have put in place differ across Great Britain.
Wales and Scotland both set up loan schemes to help alleviate the pressure on tenants to pay their rent and for their landlords to keep receiving their income. Since October 2020, the Tenancy Saver Loan Scheme has helped Welsh renters with no housing benefits or Universal Credit housing payments but with more than two months of arrears built up between March 2020 and the end of June. Scottish tenants can apply through a Tenant Hardship Loan Fund, set up in December 2020, for support to cover up to nine months' of debt and help them avoid eviction.
Now, both nations have announced £10 million grants to support tenants. In Wales, the Tenancy Hardship Grant has replaced the loan scheme, with all existing loans converting to a grant, and the Scottish equivalent will be available later in the year.
England remains conspicuous in its lack of similar funding. England has in place the Debt Respite Scheme, to support tenants to find time to pay off their debts through a "breathing space", and Universal Credit but no other official grant or loan scheme has been set up to rival those in its fellow British nations. Only time will tell whether this "breathing space" and pre-existing system will be enough when the furlough scheme ends.